THE MAHARARAH'S WELL AND ITS MEDAL
Obv: The Maharajah of Benares sitting with a hookah, attended by a servant, HIS HIGHNESS ISHREE MAHARAJAH BENARES around, 27 FEB 1872 in exergue

Rev: View of the well, Keeper's house in the background, THE MAHARAJAH'S WELL to left, STOKE ROW 10 MARCH 1863 to right

White metal, 39mm, by J Moore (BHM 2946; Pud 872.1)

I had the good fortune to spend almost ten years of my childhood living just outside Stoke Row in south Oxfordshire. At some point in the late 1970s an official additional sign was appended to the Stoke Row village entry sign, advising underneath "Maharajah's Well". Very soon afterwards graffiti appeared below saying "glad to hear it, so am I". It was a good joke and detracts from the significant fact that in this fairly unremarkable village there stands a remarkable reminder of nineteenth century Indian splendour. It was only once I'd started working in the numismatic business that I noticed my old Raj-era village waterwell was featured in "British Historical Medals", the magnum opus of the late Laurence Brown1, and later in Puddester's "Medals of British India".2
The background is that in the mid-19th century the local squire's fifth son, Edward Reade, was a high-ranking civil servant in Benares3 and as such became well acquainted with His Highness Ishree Pershad Narayun Singh, the Maharajah of Benares. Stoke Row is high in the Chiltern Hills and the villagers relied on rain water for cooking, washing and general cleanliness, whilst relying on beer for drink (even the children). In summertime this often caused severe hardship as the rain ceased and the local ponds dried up. The Maharajah's people suffered similar difficulties so Reade devised water schemes to alleviate this, during the course of which Reade mentioned the problems suffered by the people of Stoke Row back home in England. The Maharajah wished to provide for a charitable cause in England and so it came to be that work started on Stoke Row's well on 10th March 1863, eventually reaching a depth of 300ft with a daily water yield of between 600 and 700 gallons. A small well-keeper's dwelling was built next to the well and in accordance with Indian custom, land was purchased in 1866 adjacent to the well for an orchard, in order that the Keeper could sell fruit to provide for a small income. Also in accordance with Indian tradition, the only animals allowed in the orchard were cattle, the cow being sacred to Hindus.
Further celebrations were funded by Ishree in 1872 to mark the recovery of the Prince of Wales from typhoid, and this is also commemorated on the medal. He sent the vast sum of £200 and provided 149 village cottages with half a pound of tea, one pound of sugar, two loaves of bread, two pounds of bacon and 'a good pair of blankets' marked Ishree. Additionally a munificent lunch was served to local gentry and then about 150 labourers.
Sometime in 1872 or soon afterwards, it was decided to strike a medal for both events. From a letter held in the Oxfordshire Archives4 it appears that a London medallist was considered too expensive, so one Charles Osborn of Birmingham was entrusted with the commission. However Forrer (Biographical Dictionary of Medallists) has no record of Charles Osborn and the medal has the name of the renowned Joseph Moore.
The estimate provided was:
One gold medal
Six silver medals @ 10/6 each
Twelve bronze medals @ 3/- each

300 white metal medals @ 2d each

Price of die 15/-

 

Total

£5 15s 0d

£3 3s 0d

£1 16s 0d

£2 10s 0d
£0 15s 0d

£28 4s 0d
It was suggested that the silver medals be sold at 12/6d each, the bronze at 5/6d each, the white metal medals at 6d each. White metal examples appear on the numismatic market from time to time, but bronze and silver examples hardly ever. One can only speculate who received the gold medal – quite likely the Maharajah himself.
Further generosity was provided to the people of Stoke Row to celebrate Queen Victoria's survival of an assassination attempt in 1882, but after the Maharajah's death in 1889 no further contact with Benares happened until 1964, when celebrations were held for the well's centenary, attended by the Duke of Edinburgh and Indian dignitaries from Varanasi. If any reader has the chance to visit "The Maharajah's Well" I recommend doing so, for it's a splendid historical and cultural anomaly, so out of time and place.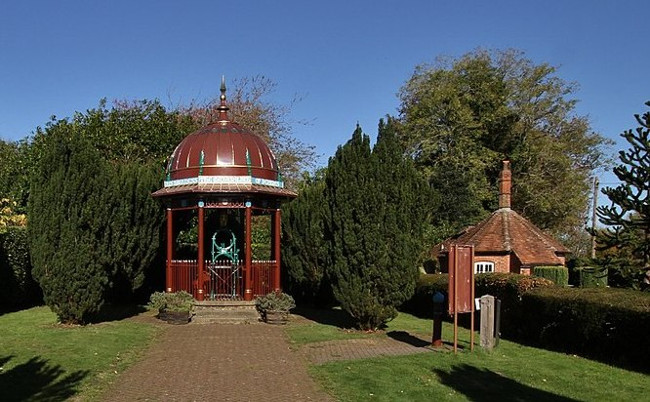 The Maharajah's Well and Keeper's Cottage (from Wikipedia)
Notes
1Brown, L., British Historical Medals 1760-1960 (3 vols., London 1980-1995)
2Puddester, R.P., Medals of British India, vol.1 (London 2002)
3 Now Varanasi in Uttar Pradesh
4 Private Correspondence with Angela Spencer-Harper 1999
­Further reading
Spencer-Harper, Angela, Dipping Into the Wells (Witney 1999), pp 36-48
*The Historical Medal Journal is the annual publication of the Historical Medallion Society, which holds an annual conference in Warwick
Copyright 2020: all rights reserved